We had the pleasure of interviewing Ari of Annapolis Railings & Stairs about his metal fabrication business. He has decades of experience and has developed a loyal following. 
There are different size metal fabricators and Mark's company could be considered a small to medium sized. He does a lot of work for large construction and metal fabrication companies that do large projects. They will sub some of the work out to companies of his size. The solo operators are too small to work with these large companies even for subcontracting work that Mark does.
There work is always varied and interesting. It may be making replacement parts for machinery, or structural components for building something. Or it could be work for an architect or landscape company.
They have made metal railings, metal stairs, fire escapes, enclosed ladders for industrial and commercial sites. (Regulations require that if a ladder that is bolted in place and is more than a certain height it must have a cage around it to reduce the risk of falls.
Then there have been beautiful, artistic gates and fences around properties and as pool enclosures.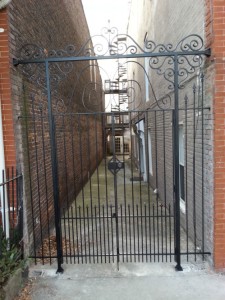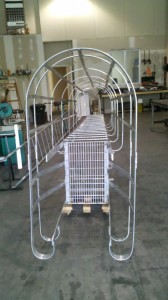 You can see from the picture an example of an ornate gate and also a picture of a ladder with a cage. The angle is a bit odd because the ladder is lying on the ground and you are looking at the top platform and then along the steps of the ladder going away horizontally.
Mark had worked for many years at a large metal fabrication company in Baltimore but wasn't satisfied and decided to split off on his own. His new company not only does work around the Bel Air area but all over Baltimore as well.
Some of the jobs are done for homeowners. This can range from simple railings and other jobs on smaller houses to extensive work on mansions in the area. That could be elaborate railings and stairs, fences, gates, and pergolas among other things. Then there are the commercial and industrial jobs. It might be fencing at an industrial site, the caged ladders, machinery parts and an assorted list of other potential jobs too long to mention. Life is never dull and there is always a new deadline to meet and problem to solve in doing the best job possible.
The jobs could involve steel, cast iron, aluminum, bronze and other metals. There might be glass, wood, or plastics incorporated in some way. Then there is TIG, MIG, arc welding and more. It all depends on the material and what use the materials are going to be put to.